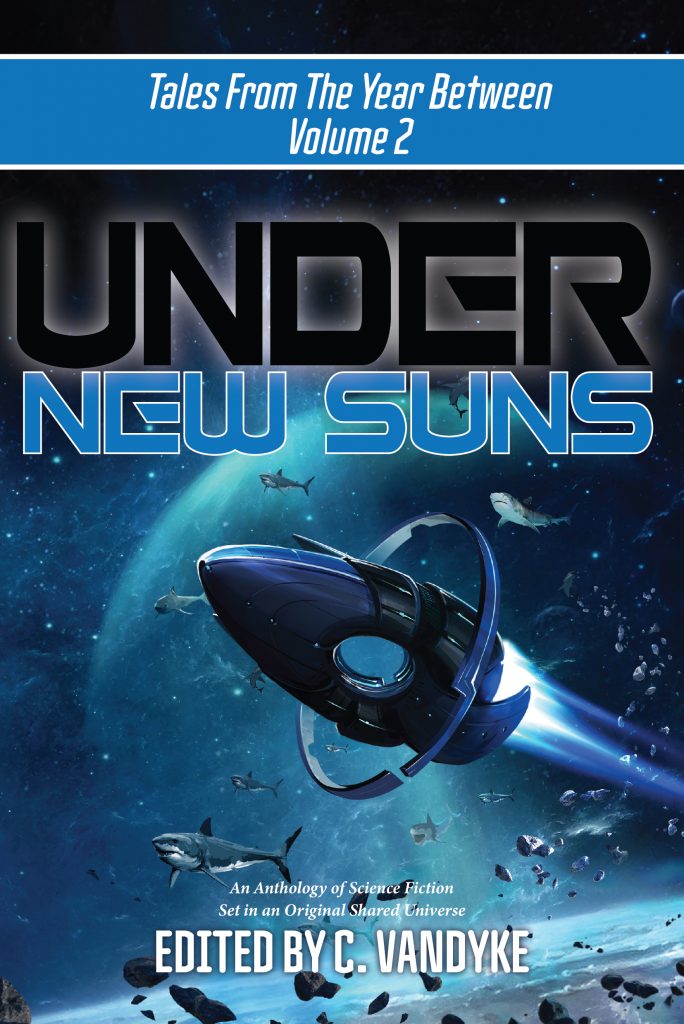 Under New Suns
Tales from the Year Between Volume 2
Featuring Wet Work by Gabrielle S. Awe!
After generations of warfare against the ominous Swarm, the United Planetary Alliance settles on a desperate gambit—send a squad of Marines to steal one of the Swarm's bio-organic battleships. However, it turns out the ship isn't merely alive but fully sentient… and it has a mission of its own. As the ship leaps across the galaxy, dimensions, and eventually reality itself, the crew has a new goal—stay alive! Join Skullgate Media on an epic space-opera filled with sexy murder-queens, ring-planets, and freaking space-sharks, all fueled by psychedelic Vesuvian coffee and sixth-dimensional funk!
Tales From The Year Between is Skullgate's anthology series that brings together writers from around the globe to invent an original world from scratch. After two weeks of intense world-building, each author sets out to expand their new, fabulous universe through short-stories, flash fiction poems, songs or whatever else their boundless imaginations unleash. Each volume is new, exciting, and utterly unique.
(Contains stories by: Laila Amado, Emily Ansell, Gabrielle Awe, B.K. Bass, Steven Bayer, Jayme Bean, Darius Bearguard, Jonathan Beck, Elvira Canaveral, Zackery Cuevas, Aaron Hockett, E. R. Hoffer, A. R. K. Horton, Debbie Iancu-Haddad, Daniel James, Allison N. Moore, Jeremy Nelson, S. L. Parker, Sarah Remy/Alex Hall, A. A. Rubin, CD Storiz, Kelly Washington, C. Vandyke, and Phebe Yawson.)
Learn more about Under New Suns and Tales From the Year Between at YearBetween.com. 
You can learn more about the publisher, Skullgate Media, at Skullgatemedia.com
Pre-Order Under New Suns!
Available from Amazon in Kindle and paperback